Today was the big day: my son's fifth birthday. Normally, we go to the Indianapolis Zoo on his birthday. This year, for some reason, my wife decided we would take a trip to
Kings Island
, which just happens to be about twenty minutes away from where I grew up.
We loaded up early this morning and headed out. The drive was about two hours. Since we met, my wife and I have gone to Kings Island nearly every year on
Procter & Gamble
Dividend Day: a day that P&G buys out the entire park and gives out Kings Island tickets to it's shareholders. My brother-in-law is retired and has always given us his tickets. It's nice to go for free, but now that my son is over three, we need
three
tickets to get in, and the number of tickets my brother-in-law can get is limited to two. So we purchased our tickets and went today for my son's birthday.
As you can see by the picture above, my kids met all of their favorite cartoon characters. My son has always been a little odd about meeting larger than life cartoon characters, but my little girl just loved them. When she first spotted Spongebob, she took off running to meet him.
My son took a crack at one of the midway games, racing me in a game where you shoot a water stream at a moving target. He won, and chose his first ever midway prize, a little purple monkey. He was quite proud of his win.
My son got to ride his first roller coaster, and absolutely hated it. I must admit, even this coaster designed more for kids than adults, was probably just a bit too rough and fast for a typical five year old. Though I think my two year old daughter would have loved it if she had been able to ride it.
We had a great day. The kids were both wonderfully behaved. In fact, my daughter, who at the age of 28 months is potty training, made it through the entire day without having any potty-related accidents! We were so proud of her!
The temperature was high, the humidity high, and many of the park's patrons today were running around in next to nothing -- not the kind of environment we like to spend the day in. But we had a wonderful time.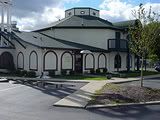 After leaving the park, we headed to
Pizza Tower
for dinner. My son was offered the choice of any place he wanted to eat, and he picked some place that we have never been before. The pizza was good, the bread sticks were even better, and the kids were given pizza dough to play with like Play-doh. Then we had an incredible quarter-pound chocolate chip cookie. Pizza Tower appears to have only the one location, but they seem to know what to do to make the dining experience one that pleases the entire family.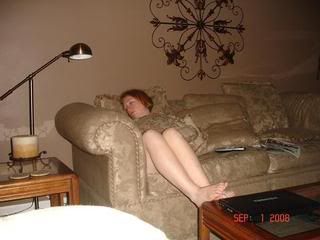 After a quick stop at Toys-r-Us on the way home, to allow each of the kids to pick out a special toy for being such well-behaved kids on a very long, very hot, very hectic day, we returned home and put the kids to bed. As I worked on this post while listening to news of Hurricane Gustav on Fox News (the
only
cable news network worth watching), I looked over at my beautiful bride to find her sound asleep on the couch. She probably won't be too thrilled about me posting this picture here, but there's no denying that she's beautiful when she's sleeping.
Two more days of vacation before returning to work. This past week has been my best vacation yet, as I've been able to spend some high quality time with my family -- the kind of time I don't get enough of with my kids.
Hope you had a safe and restful Labor Day.
Your comments?
Joe