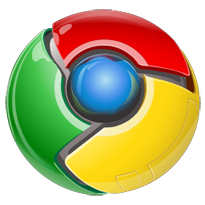 I've been using the new
Google Chrome
browser since it was released -- actually downloaded and installed it during the Google press conference announcing it. My goal is to use
only
Google Chrome for seven days. To put it through the ringer, so to speak, and see just what it can do.
I have long been a fan of
Firefox
, long ago abandoned Internet Explorer, and it won't be easy to take my loyalty from Firefox. Not easy, but not impossible.
So far I have found Google Chrome to be quite promising in many ways. Today I share some of my favorite features of Google Chrome (so far).
The Most Visited feature that loads when you open a new tab is sweet. I love the "automatic bookmarking" of the Most Visited feature. It's a quick way to get to the pages that I'm currently spending the most time at without having to take the time to bookmark them.
Google Chrome is
definitely
faster than any other browser I've used so far. So fast, in fact, that in the past I've had to use Gmail Mobile when connected via dial up from work, and with Chrome I can stay in the familiar Standard view that is so much easier to use.
Having the tabs at the top of the screen, with a very modest "Omnibox" (Google's name for the combined address bar/search box) and bookmark bar below it actually gives me over an inch more viewable web space on the vertical than Firefox 3.0.
So far, I have found many things that I really like about Google Chrome. Above are listed just a few. I have also found some areas where I feel that Google still has some work to do. Those I'll share in the next part of this series.
Your comments?
Joe