My wife and I had a pretty nice weekend. Several months ago, my wife purchased tickets to see Big Daddy Weave in concert at
our old church
in Terre Haute, Indiana. If you aren't familiar with Contemporary Christian bands, they
frequently
perform at churches. If you've ever been to a Contemporary Christian concert, you've seen that it's quite natural, really. And with seating for over 1,400 people, and a sanctuary (auditorium) built for acoustics, Maryland Community Church is perfect for concerts.
So with concert tickets in hand, we set off yesterday afternoon to drop the kids off with their grandparents (where they would spend the evening) and we started a much anticipated, long overdue date night. We dropped off the kids and headed to the
Hampton Inn
to check into our room, drop our bags, and go for a swim. We had the pool to ourselves for nearly an hour. It was very refreshing and relaxing.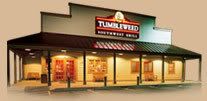 We then got dressed for the concert and went to
Tumbleweed
for dinner. We have always enjoyed Tumbleweed, because we both can find the kind of food we enjoy there. My wife has authentic southwest fare and I have steak! And the steak is
always
cooked to perfection. I have
never
had any complaints about Tumbleweed, and last night's experience proved to be the best ever. We enjoyed it so much I left a very generous tip and asked for the Manager so I could comment on the exceptional food and service.
After the awesome dinner, we headed for the concert, where we arrived just in time (literally). My wife mistakenly read the ticket time as the time that doors opened. We pulled up right at 7pm and went inside to find the first song already under way.
First up was
Jason Gray
, described as Christian music's best kept secret. His music was great, and we actually purchased his newest album,
All The Lovely Losers
.
Here is a sample of Jason's performance:
Direct video link
.
Next up was
Rush of Fools
, a very, very upbeat, energetic Christian band from Alabama. They literally rocked the place with some great audience participation.
Here is a sample of Rush of Fools' performance:
Direct video link
.
And finally, the headline band,
Big Daddy Weave
, took the stage. Among other things, we learned that Big Daddy is in fact
not
any specific member of the band, but rather the band as a whole. Go figure. When you see the band in this clip below, you'll understand why the lead singer, Mike, is frequently referred to as "Big Daddy" by his unknowing fans.
Direct video link
.
This morning, after breakfast and a little running around town, we went to see the new theatrical release of
Fireproof
, one of the best movies I have seen this year. I'll post a review here this week, in the meantime, here's a sample of this awesome movie:
Direct video link
.
After the movie, we picked up the kids (whom I missed very much), and returned home.
By the way, while I'm sharing pictures, here's another new one of my beautiful wife. One thing I learned from the movie: I definitely don't show my wife how much I appreciate her often enough. She is a wonderful woman, and I am living proof that God is graceful in the fact that she married me.
We had a wonderful weekend together, and I'm already looking forward to our next date night.
Your comments?
Joe