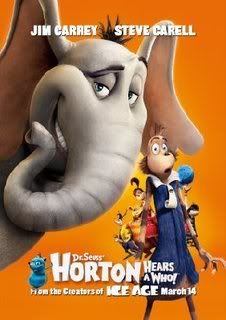 I took my son this afternoon to see the latest big screen adaptation from my childhood:
Dr. Seuss' Horton Hears A Who
.
The movie is enjoyable for all ages. My son, who sometimes finds it very difficult to sit still for any measureable amount of time, did so quite well through most of the movie. At just 88 minutes long, that's not bad, though trimming the ten minutes of previews at the start of the show might have been a big help.
If you haven't read the Dr. Seuss classic,
Horton Hears A Who
, shame on you. Where have you been, under a rock? The story itself shouldn't require much introduction. If it does, maybe you should
buy a copy
and get familiar with the story before seeing the movie.
What's most important here is how the story is treated in movie form. I have to be honest, when I saw that Jim Carrey was involved, I was a little concerned.
The Grinch
and
The Cat In The Hat
were both degraded from the great Seuss tradition when adapted to film. Luckily,
Horton
received an animated adaptation, which makes it a much more family-friendly treatment. Jim Carrey accomplished the rare feat of reigning in his over-the-top antics in
Horton
. In fact, I can't think of any areas of the movie where even adult-oriented innuendo was used.
My son did have a little tough time following the story at some points. He seemed a bit confused about the concept of Whoville existing on a speck of dust perched atop a clover. And especially when Whoville suffered the side effects of Horton jumping, bouncing, and running with the clover clutched in his trunk. Other than that, however, he quite enjoyed the movie.
The film adaptation remains as true as can be expected to the Seuss tale. Even some of the original Seuss rhyme is used in the movie.
My son said he loved the movie, though I wasn't sure at times if he was enjoying it as much as I was. Overall, it's a good movie for kids of all ages -- a great show to take the family to see. We'll probably be watching it with the whole family when it comes out on pay-per-view.
Joe