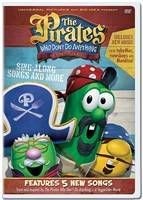 Yesterday, my wife and I did something we don't do often -- we bought a DVD for our children. Now, they have several DVDs, but we usually get videos for them from the library, where there's no cost, and no worry of buying a movie that they'll only watch once. Then, when we've found one they really enjoy, we'll consider purchasing it.
My son has wanted the
Big Idea
Productions movie,
The Pirates Who Don't Do Anything
ever since it came out. We decided yesterday to let him get it. So we drove to the nearest
Lifeway Christian Store
, which is roughly 30 minutes away, and bought the movie (plus
the latest Ted Dekker book
, which I'll be reading and reviewing here soon).
We got it home, popped it into the DVD player (this morning, because we got home too late to watch it last night), and there was one problem: the movie isn't out on DVD yet. My first clue? The fact that the DVD we purchased, which looks suspiciously like there should be a movie on it, begins with a theatrical preview for the very movie we thought we had purchased.
DUPED AGAIN
That's right, the brainiacs at Big Idea Productions have found a way to boost sales: package a Sing Along DVD that looks exactly like a movie (in fact the package even says "A VeggieTales Movie" on it), so that kids will want it and parents will give in and buy it, only to get home and find that what they have isn't the movie at all, but a bunch of "Silly Songs" supposedly inspired by the movie.
This wasn't the first time this happened to us with Big Idea, so I guess I should have known better. The same thing happened when my mother-in-law bought them what
she
thought was the VeggieTales movie
Jonah
. The box looked just like a video box, with the same exact cover as the video, and it also said "A VeggieTales Movie" under the title. But when we opened the box, it was some kind of activity kit, and not a movie at all. Talk about having a disappointed kid.

This time, I was furious -- but I managed to keep my cool. My wife was out of town today for her friend's baby shower, and the kids and I were going to watch the movie. We had popped a bag of popcorn (the bargain stuff from Target, that we also bought last night, just for this movie). The first bag burned, and I quickly threw it out in the trash in the garage so it wouldn't stink up the house. I then popped a second bag of popcorn (I would recommend paying a little more for the good stuff), got drinks for myself and the kids, popped the movie into the DVD player, and sat down to enjoy some good wholesome entertainment with my kids -- some Daddy Time.
I was surprised when the first thing to roll was a theatrical trailer for the very movie we were about to watch. The fact that there was a preview didn't surprise me, just the fact that it was a preview for the movie we had just purchased. That didn't make any sense at all to me. Until the main menu popped up, and there was no "Play Movie" selection. It was all about songs.
I looked closer at the package and, sure enough, under the title of the movie, superimposed on the package that I'm sure is exactly what the actual movie package will look like when it's released on DVD, were the words "Silly Songs and More" in a light, transparent kind of type. My kids were both disappointed, and I was annoyed.
KUDOS TO LIFEWAY
After calling my wife to tell her the sad news, I found the receipt and called the store we had purchased it from:
Lifeway Christian Stores in the Castleton area of Indianapolis
. I explained my dilemma and was told that I could exchange the DVD for something else. I then asked them about getting credit for a one-day-only coupon we had used on the purchase. The employee on the phone wasn't sure, checked with someone, and came back with an answer that sounded like a no. Prepared to argue my case, I loaded the kids up in the car and made the 30 minute drive back to the store (it should be noted that there is a
Family Christian Stores
location just five minutes from home, but we choose to make the longer drive to Lifeway).
When we arrived at the store, I explained that I had called, and was immediately told that they normally do not allow returns of DVDs due to copyright laws. I had expected them to use that as a reason
not
to allow an exchange, but the clerk immediately went on and explained that they
would
allow me to exchange the movie, and that they
would
give me the same discount on the new movie as they had on the incorrect movie.
Thank you, Lifeway Christian Stores, for caring for your customers and understanding that my poor kids had been duped by the big wigs at Big Idea. No hassle whatsoever! I was shocked and pleased at the same time! I myself am a Retail Store Manager, and so often in retail it's easier to find a way to say NO, and these folks found a way to say YES.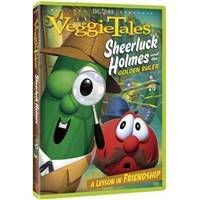 I'll tell you now what I told Lifeway Christian Stores when we finished our transaction and prepared to leave the store:
I will be back
.
As for the movie? My kids selected another Big Idea selection:
Sheerluck Holmes and the Golden Ruler
. We came home, grabbed our popcorn, refreshed our drinks, and enjoyed the movie. I'll be more careful next time not to fall for the big ideas of Big Idea.
Joe