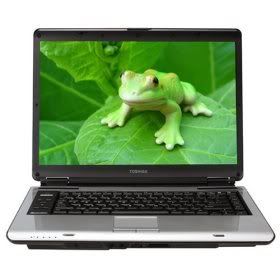 I'm writing this from one of two Toshiba laptop computers we own. Probably the very last Toshiba computer I will ever buy. The warranty on this computer expires on February 1, 2008: less than one month away. While one computer has been quite reliable, this particular computer (a Toshiba Satellite A135-S2276) has frequently been in for repair.
From the day that I brought the computer home, the clock on the computer has never kept time properly. I first thought it might have a dying CMOS battery, and returned to the retailer to have it checked out. Then I thought it was a RAM issue. The cause of the problem would later become apparent.
In June 2007, when the computer was just six months old, I suffered what turned out to be a very common problem with Toshiba notebook computers. A randomly generated BIOS password that caused the system to be unbootable. Toshiba had a BIOS update available on their site that would prevent such an error, but has no method such as Microsoft's Patch Tuesday to push such fixes out. To correct the problem, I had to take the computer to a local Toshiba Authorized Service Provider to have the password reset by shorting across a jumper.
On
September 3, 2007
, I first started having critical issues with this computer. Windows Vista described this problem with a code named "Blue Screen." Apparently the computer had spontaneously rebooted itself due to some unexpected error.

Microsoft Windows Vista, of course, blamed the problem on hardware. Naturally, I didn't believe it. I assumed that the problem was caused by Vista and Microsoft was just trying to pass the buck.
On
September 9, 2007
, I learned otherwise, when the hard drive in my Toshiba notebook computer crashed. The only way I could boot my computer during this time was from an
Ubuntu Linux Live CD
. My computer went back to the Toshiba Authorized Service Provider for two full weeks to have the hard drive replaced. It came back to me with a new hard drive and a new motherboard. I was happy to have caught this problem while still under the manufacturer's warranty. After picking up the computer, the clock now seemed to keep accurate time, indicating that the problem had been with the motherboard all along.
On
November 27, 2007
, my computer was ready to go back to the Toshiba Authorized Service Provider. The USB ports were not working. The computer had
another
motherboard put in, as well as a new USB board. I picked up the computer less than two weeks ago, and everything has been fine since then.

Until tonight. The computer is exhibiting the same symptoms tonight that it did just before having the second motherboard and USB board replaced. I called Toshiba Technical Support at their published number of 800-457-7777. Knowing that my warranty is due to expire in less than one month, and that the track record has not been very good so far for this computer, I was determined to press for the computer to be replaced rather than repaired. I was immediately told that Toshiba's policy did not provide for a replacement unless the repair has been performed for the same problem
more than three times
during the warranty period. I asked to speak with someone who could authorize a replacement. I was asked to "hold for two or three minutes" while being transferred to Customer Relations. 68 minutes later, after hearing the same song looped over and over while being on hold, I hung up to answer the front door.
Moments later, I called back, hotter than ever this time. I explained the situation to another tech support rep and demanded that my computer be replaced. Again, I was cited company policy and offered a transfer to Customer Relations. This time when told the hold time would be two to three minutes, I explained that when I had last been told that I was on hold for 68 minutes. I told the rep that he needed to get someone to pick up the line quickly this time. I told him that I would give them ten minutes to answer the phone before pursuing other options. 75 minutes of the same hold music later, a recording came on the line that said, "We're sorry, your call cannot be answered at this time." Then the line went dead.
As you can imagine, I was fuming by this time. I went to
Toshiba's Better Business Bureau Link
on their website and found a contact number for
Guy Lugo, Toshiba's Primary Contact for Customer Service (949-461-4153)
. I was shocked and amazed when, after just two rings, a man answered with the greeting, "This is Guy."
I explained who I was and that I was a very unhappy customer. Guy Lugo explained that another department could help me with that. He gave me a direct number to reach that department
(800-272-0569)
and said that my wait should be less than seven minutes, that I would be the second person in the queue. After approximately fifteen minutes a woman came on the line. She took my information and promised me that someone would call me back today.
A couple of hours later, I received an international phone call
(49897805)
from Munich, Germany, though the caller sounded like she was from India. It was a Toshiba "Customer Relations Agent." I again explained my situation and was again cited the company policy about exchanges. When I related to her the repair history of my computer, she said that it
"is not rare" for one of their computers to have multiple major system components replaced within the first year
. After spouting off several threats, I was hung up on by this "Customer Relations Agent."
Needless to say, I am appalled at this point. My computer is useless. I cannot use the USB ports, I cannot count on the clock to display the correct time, and I cannot expect the computer to reliably boot every time. If I'm not careful, I might even be physically burned by the occasionally hot-to-the-touch mouse pad. And the only support I've received from anyone connected with Toshiba is from the Authorized Service Provider that is contracted with them out of Fishers, Indiana.
I have no intention to give up this fight. I have 29 days before the warranty on my computer expires, and then I will be personally responsibly for every repair that this lemon of a machine requires. Please, do me two favors. First, do NOT buy a product from Toshiba Computers. It's a waste of your money and your time. Second, DIGG this story (click the link below), blog it, Twitter it, whatever -- just share it with as many people as you possibly can. Help me to get justice in this case.
Joe