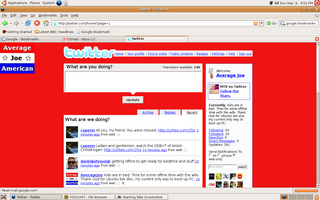 As I mentioned on
Twitter
earlier tonight, Thank God for
Ubuntu
and the Live Disc feature they offer.
My hard drive has gone belly up on me, and I'm making this post right now using
Google Docs & Spreadsheets
in
Firefox
, all of which are running under Ubuntu, off my CD drive.
I used an SD card to save the screen capture to so I could upload it to Photobucket.
I am very seriously considering moving from Windows Vista to Ubuntu when my hard drive is replaced (it's still under warranty, thankfully).
I can access almost every software title I need in a Linux version (not sure yet about Palm handheld compatibility), it's much faster, and much less susceptible to viruses. And FREE.
I'll keep you posted.
Joe