I don't listen to much radio at all anymore. There are several podcasts I listen to on a regular basis -- many of which I have mentioned here before. I get my music, news, and tech updates through these podcasts.
One of the musicians I've heard in some of these podcasts is
Matthew Ebel
, and in addition to being an independent musician, he's also a podcaster.
High Orbit
, Ebel's podcast, is both entertaining and unique.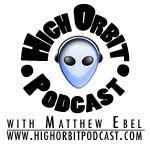 High Orbit
features selections from other
podsafe
musicians (and occassionally some of Ebel's own music). But unlike many other music podcasts out there,
High Orbit
puts Matthew Ebel at the helm of the UTF Revolution, an intergalactic freight ship staffed by droids and Captained by the musician/podcaster himself. In addition to some great music selections, you get to share the experience as Ebel suffers a bout of Galactic Biodiesel Plague (it will teach you a whole new respect for rats), and be there when Ebel's droid, Prodo 1, mutinously assumes command of the ship while Ebel floats in space attached only by a tether.
It may sound cheesy, but it's actually quite entertaining. It beats the drivel-filled music podcasts so popular these days. Give it a chance before you write it off.
You can subscribe
here
, or for a quick sample,
download a recent episode
. And don't forget to visit
Matthew Ebel on the web
and support him by purchasing a CD.
Joe
And by the way: episodes 13 and 14 -- they're keepers.