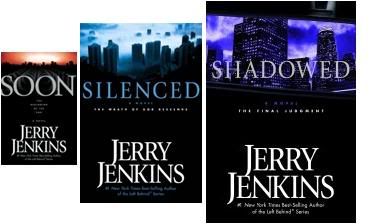 From
Jerry B. Jenkins
, co-author of the popular
Left Behind
series, comes a new end times saga.
The year is 38 P3, thirty-eight years after the end of World War III, the International Government of Peace is based in Bern, Switzerland, and all religion has been outlawed, but in the United Seven States of America, there is a large movement of underground zealots who refuse to denounce their faith in God. Willing to fight for what they believe in, and calling on God for help, they bring forth a drought on Los Angeles and a new Passover, causing the first-born male of every non-believer to drop dead throughout the world.
National Peace Organization Agent Paul Stepola lives the double life of an underground religious zealot and the leader of a squad of agents out to destroy the underground movement. Going head-to-head with his father-in-law and former Army General, unsure whether his wife's support lies with him or her father, Agent Stepola finds himself living a life on the run.
Jerry Jenkins brings a new story in this latest trilogy; one that will hold your attention and have you wanting for more. A must read from the creative genius behind the
Left Behind
series. Pick up your copies today of
Soon
,
Silenced
and
Shadowed
. You won't be disappointed.
Joe