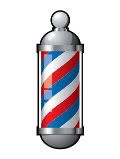 Since moving to Indianapolis seventeen months ago, I have struggled with a dilemma that many, many men struggle with: where to get my haircut.
See, it is not the same for women as it is for men. Women can go anyplace. Really. They go to beauticians, or whatever they call them now, and get their hair "done." Not men. We get our hair "cut." And no two barbers are alike. It can take many, many years for a man to find a barber that he likes, who cuts his hair just right. Many years, and many bad haircuts. Don't believe me? Watch this: [more below the video]
Since moving to Indianapolis, I have lived in desperate fear of where to find the right barber. Okay, maybe that's an exaggeration, but only a slight one. Instead of trekking out to one barber after another looking for one that I feel comfortable with, I have allowed my wife to cut my hair. She does an okay enough job, but it just isn't the same.
Today, feeling like I was wearing a mop on my head, I decided that it was time to take my life into my own hands, and to head out and find a real barber. For the sake of convenience -- and because I felt that the look of the place was promising -- I ventured to the nearest
real
barber shop to my home:
Bob's Barber Shop
in Cumberland, Indiana, on the very near east side of Indianapolis.
I want to share with you one of the most pleasant hair cut experiences I have had in my entire life -- perhaps the best ever. When I walked into Bob's, which is open Tuesday through Friday from noon to 5PM, there was one man in the chair and no one waiting. Bob (I at first presumed and was later confirmed) was cutting away at the hair of an elderly gentleman, chatting away. I sat and waited. Before my turn in the chair, another man came in for his cut, and Bob greeted him with a friendly greeting that made it clear that they knew each other (this turned out to be the way that Bob greeted everyone who came into the shop while I was there).
I took my turn in the chair and responded to the standard, "How you want it cut?" I must admit, I was a bit concerned for a time while Bob cut away at my hair so quickly that I was sure it couldn't possibly look good in the end. I don't believe Bob even touched my mop with a pair of scissors -- all clippers.
After cutting and trimming with the clippers, Bob picked up a smaller electric razor and shaved the hair at the back of my neck, trimmed my sideburns and over my ears -- he even zapped away the hairs that grow out of every man's ears as he gets older (yes, I admit that I have them). Most any barber would have been done at this time and offered his customer a mirror. Not Bob.
Next thing I know, Bob is lathering up the back of my neck, my sideburns, and over my ears with a soothing warm shaving creme and reaching for his straight razor. This, my friends, is what separates a real barber from a mere hair cutter. Using that straight razor, Bob expertly sliced and diced away the stubble that most so-called barbers would have left on the back of my neck, etc.
But that's not all. After wiping away the excess shaving creme, Bob fired up a little device that I have seen no barber ever use before. I'm not really sure what it's called, but when Bob touched the 14 inch by 5 inch device to my back, I knew exactly what it did, and it felt great! Bob quickly massaged my back and shoulders with this little gadget, and even placed it on the back of the chair so that the vibration of the device would emanate through the back of the barber chair down my spine. Unbelievable!
And when done, Bob never even offered me a mirror. Why? Because he has confidence in his work and knew that I would be pleased with the results of my haircut. And he was right! Bob's Barber Shop
is
where I will get my hair cut for as long as I live in Indy and he's still cutting hair. And with as rare as real barbers have become lately, I encourage you to pay him a visit. There is no way that you could possibly be disappointed!
As I paid my bill and prepared to leave, even in these tough economic times, I slipped Bob a small tip and said, "I'll be back." Just between you and me, I'm looking forward to it!
Your comments?
Joe