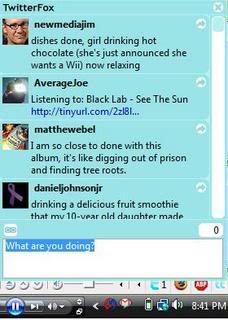 Have you heard that
Google
has purchased social networking service
Jaiku
? What will this mean for the other major social presence site,
Twitter
? Just take a look at the links above, and I think it will tell the story.
I don't have nearly as large a social network as many bloggers/podcasters do, but I do have a core group of others (mostly podcasters/musicians) on Twitter. When the news hit of Google buying Jaiku, there was an understandable rush by the masses to sign up for Jaiku to be a part of the next big Google thing. Want to compare the two? Check them out side by side at
Twitku
.
One key telling factor I find is the number of methods available to contribute to such social presence services. I've just joined Jaiku myself, so there are very few methods of participating in this service that I have latched on to so far. But look at this list of apps/services I use to post on Twitter. Of course, there's the standard
Twitter
page, but there is oh so much more.
The
TwitterFox
extension for
Firefox
places a Twitter icon in your Firefox status bar that allows you to read and post to Twitter in a simple pop up window (like the one pictured above).
TwittyTunes
for
FoxyTunes
also adds a simple media player to the Firefox status bar, which works with your existing Media Player to control your music selections remotely. It allows you to post tracks that your listening to on Twitter with one click. The
Signatunes
add-in allows you to automatically add a signature to email and blog posts that will tell readers what you were listening to as you wrote (see my Singatune below). FoxyTunes also works with Internet Explorer, though I don't know why you would need it to.
The Firefox extension
TwitterBar
allows you to post to Twitter directly from the Firefox address bar by typing your post into the address bar and clicking a small submit button. It will also allow you to post what site you are currently browsing to with just one click.
Twitbin
is another Firefox extension that opens in the sidebar, allowing you to read and post to Twitter without opening another browser tab or software application.
Google Talk
, the popular Google chat client, allows you to post and read your Twitter account within the clients interface, as if you were engaging in some massive conference call type of chat from within Google Talk itself.
TwitterMail
will assign you a private personal email address to which you can send email posts that will automatically be posted to Twitter.
Twitter will allow you to set up your mobile phone so that you can post directly to Twitter via SMS. This is probably the most-used method of posting to Twitter accounts.
TwitterGram
allows you to call a number and record a short message in mp3 format that is then automatically posted to Twitter with a link to the mp3 file.
And I mentioned
TwitKu
earlier.
These are just the methods I use to post to Twitter. For a full list of methods to post to Twitter, check out the
Twitter Fan Wiki
.
So what are you doing?
Joe
----------------
Now playing:
Mike Errico - Skimming
via FoxyTunes