Today is the last of six short days of vacation. Tomorrow, it's back to the long commutes and the daily grind of work. I guess I should be thankful for the time off with my family, but it just wasn't long enough:
I need more time!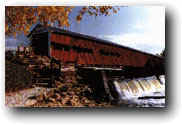 We did have some fun together, though. Every October here in (what I call) West-Central Indiana, there is a week-long event called
The Covered Bridge Festival
. Now, if you've ever been to a festival of any kind, you might not be expecting what you would find at the Covered Bridge Festival. It's more of a large flea market than a festival. There really aren't any rides, or games, or a midway. It's a bunch of vendors who gather in one place hocking their wares. Some of the "merchandise" you find is new, desirable, and priced right, while some of it can only be described as junk (which is still a quite generous label). Every year at Festival time, all along the routes to the three Festival sites, every home you pass is having a week long yard sale -- junk sales, to be exact. On Friday, we hit the yard sale circuit, where I bought a nice Black & Decker hedge trimmer for ten bucks.
Saturday we went to Plainfield, Indiana (just west of Indianapolis), stopping at some of the many yard sales along the way. Now that I think about it,
this
is where I actually bought the hedge trimmer. I didn't find anything of use at Friday's yard sale outing.
Sunday was a rest day. Kind of. I mowed the grass, used my new hedge trimmer to (obviously) trim the hedges and cut the branches off some unwanted trees growing behind our back fence. We also took down the front door and repainted it. More of a chore day than a rest day, but not too bad. I actually enjoyed trimming the hedges.
Monday, before the rain could move in, we headed out for the Covered Bridge Festival. We had already been to one of the three Festival locations (in Rockville, Indiana) on Friday during our yard sale outing. Sunday's outing took us to Mansfield, Indiana, to the old Mansfield Mill, which is actually the largest of the three Festival locations (we don't usually go to the third, located in Bridgeton, Indiana). We got a "shingle" with my daughter's name and birthdate on it to add to the shingle we got in Gatlinburg on our honeymoon and the shingle we got three years ago at the Festival with my son's name and birthdate on it. These shingles hang on our back deck together. We got through the Festival just before the rain started falling (and falling, and falling, and falling until early the next morning). After leaving the Festival, we took my 5-1/2 month old daughter to have her ears pierced. She was incredibly calm throughout the process, and though I was unsure about it beforehand, I have to say she looks mighty cute with those little diamonds (CZ, actually) in her ears.
Tuesday brought another fall tradition. Each October we take our son (and now our daughter) to
Pumpkin Works
. My son gets to pick out the pumpkin for his jack-o-lantern, which he and my wife will carve today. We also trek our way through a maze cut into a three-acre cornfield (there's a nine-acre version, as well, but my son isn't patient enough for that one yet). We have pumpkin ice cream and peanut butter fudge, and just enjoy a little time together as a family.
Today, Wednesday, the whole vacation wraps up. I'm sanding and refinishing the shingles I mentioned earlier, as they've become quite weather-beaten over the past three to four years. I'll be rehanging them when I'm finished, adding my daughter's shingle to the group. My wife and son will be carving his pumpkin and putting it out on the porch tonight. The rest of the day will be spent getting the house recovered from my time off, cleaning my son's room, and hopefully getting a little rest before returning to work tomorrow.
It's been a nice non-travelling vacation. I've enjoyed spending the time with my family, and, though I'm resigned to it, I'm not looking forward to returning to work (away from my family) again tomorrow.
Joe