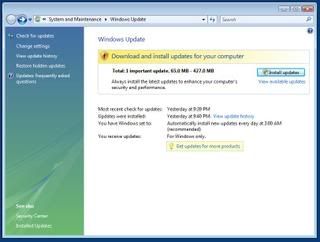 Windows Vista Service Pack 1 is available now. This can be quite a large download if you haven't kept your system up to date, of if you have a newly purchased install of Windows Vista.
My system is updated weekly, and I had a 66 megabyte download to install. It took quite some time during the overnight to download and install the update.
If you've been using Windows for any period of time -- and most of you probably have -- then you should be fully aware of the security reasons to get this update applied as soon as possible. Failure to do so could make you susceptible to all sorts of intrusion and security vulnerabilities.
Joe