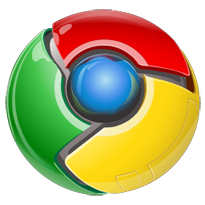 More on Google's new entry into the browser market,
Google Chrome
 . I've been using Chrome since it's release date, and am trying to use it exclusively for the first week to give it a real chance. If I can run it through the gamut of a blogger / podcaster and come out satisfied, then I'll call it a winner.
In the last article in this series, I mentioned some of my favorite features of Google Chrome. Today, I'll share some of the downfalls I have noticed with Google Chrome. Through all of this, I remind myself that Google Chrome is currently in Beta release, and the purpose of even using it is to test it and help make it work better.
On a couple of occasions I have noticed that I have no audio while viewing Flash video such as YouTube videos in Google Chrome. This struck me as odd, since both YouTube and Google Chrome are Google products, and you would think they had thoroughly tested them together. Though I haven't been able to determine what the cause of the problem is, I have found a couple of ways to fix it. The simplest, of course, is to close the browser and restart it (I haven't yet tried to use Google Chrome's built-in Task Manager, which may have solved the problem without a complete restart of the browser). As I have Chrome set to launch with the same pages open that I closed with, this doesn't cause an issue for me of losing what I was viewing. Another method that has appeared to work is right clicking (this works on some Flash video, but not all) in the Flash window and selecting settings. I didn't actually have to change any settings, just the process of loading the settings window, clicking OK, and restarting the video has restored the sound for me (again, in some instances only).
RSS Reading is virtually impossible. In Firefox, you can click an RSS link and the page will load in a viewable format. Firefox does an excellent job of rendering RSS into a readable format. Google does nothing. Without using some other RSS Reader, such as
Google Reader
 , it is impossible to make any sense of RSS Feeds in Chrome. The biggest problem with using Google Reader is that there is no easy way to subscribe to an RSS Feed (yet) in Google Chrome, other than copy and paste. This, I'm sure, will soon be fixed as well.
After resuming my laptop from sleep mode, it appears to take longer for Gmail to refresh the Inbox in Google Chrome than in other browsers. This is only a minor inconvenience and can easily be overcome by clicking the Inbox link.
It appears that when I installed Google Chrome,
Google Gears
was also installed. I don't recall being asked if I wanted to install Gears, and I don't believe I have installed it on the computer in the past. I will say that this only
appears
 to be the case, until I run a test install on another computer. I don't know if this is a bad thing or not. Some might consider it a negative when software is installed on their computer without their knowledge (which, again, I am not sure is the case). I have started using Google Gears since this install, and will cover my experience with that in another installment in this series.
As a Firefox 3 user, I love the add-ons of Firefox. They don't (yet) exist in Google Chrome, but Google is said to be working on it. Since there are several add-ons I use in Firefox, I will cover that in the next installment in this series, including the work arounds I have found for several of them in Google Chrome.
So far, I'm basically please with Google Chrome. It has some work to do, and I have more to run it through. I'll be back soon with more on add-on work arounds and Google Gears, and whatever else I uncover in the mean time. Send me your feedback and thoughts using the email or comments links below.
Joe
--
"Change is not a destination, just as hope is not a strategy." -- Rudy Giuliani