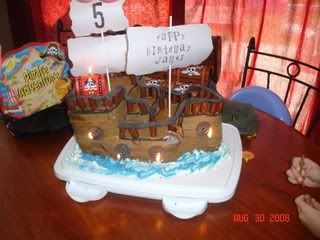 This fourth day of vacation has been all about my son. He turns five on Monday, and today we had some family and friends over for his birthday party. With nine adults and seven kids here, we had a pretty full house.
The party consisted, of course, of cake, and lunch, and gift opening, and the busting open of a pirate ship pinata filled with candy. The kids were all great -- which is saying something, considering that they ranged in age from eighteen months to thirteen years. My wife did a wonderful job of putting the whole thing together, to include making the cake from scratch.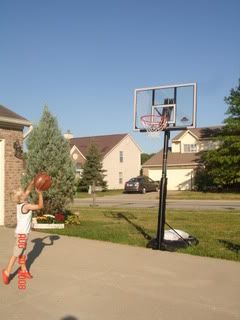 The hit of the day, I think, was the new basketball goal that we got for our son. He first started playing basketball when he was three years old, learning the basics in a program at the
Wabash Valley Family Sports Center
in Terre Haute before we moved. He went back for the program again at the age of four, and will be playing again as soon as we find a program in Indy to enroll him in. Until then, he now has his own "court" at home to practice on.
We unveiled the goal to him this morning, right after breakfast, before all of the party guests arrived. My daughter was so thrilled to see something new -- even though at the age of two she didn't know what it was -- that she ran out of the garage, stumbled, and fell, skinning the back of her hand. Ever the tough little girl that she is, she was up and running around again in no time.
After the friends left and all that was left was family, my son got to shoot some hoops with his uncle and aunt, his cousin, and his grandfather. I think the goal was a hit.
And on a note that is only related to my vacation by the fact that I'm on vacation at the same time that this was unveiled, I want to share with you the stage being set up for the Republican National Convention. I don't know yet if this is actually where Senator McCain plans to officially accept his parties nomination for President, but compare this stage with the
stage set up for Obama
and I think the message is clear on who seems more Presidential, more patriotic,
more American
.
Tomorrow, more church hunting, as we attend a church recommended to us by both our current Pastor and an Average Joe reader.
Your comments?
Joe