"I'd like a Stack Attack combo with a Coke, please," I said, taking my turn at the
Lafayette Road/Indianapolis Wendy's
drive-thru window.
"Medium or Large?" I hadn't expected that question. The menu described the $3.29 value meal as a double cheeseburger, small order of fries and sixteen ounce Coke.
"Medium?" I answered.
"Your total will be $4.12 at the window." As I tried to figure how the sales tax could have added nearly a dollar to my total, I slowly moved forward toward the pick up window.
"$4.12," I was told when I reached the window.
"How does it come to $4.12?" I asked. "The sign says it's $3.29."
"You ordered a medium," I was then told.
"You asked me if I wanted medium or large," I said. "You didn't mention a small."
"That wasn't me," the woman answered, while the woman behind her had a caught-red-handed look on her face.
"Did you want a small?" the denier asked.
"I want whatever is listed on the menu for $3.29."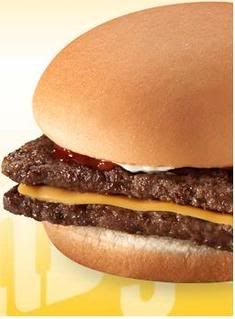 The red-handed employee said, "We can fix it."
I received my amended order and started the drive home.
As is typical with most fast food restaurants these days, there was so much ice in my Coke that I was out of drink long before I was out of food. Curious as to just how much Coke was actually in my sixteen ounce cup, I made sure to suck down every drop of Coke and left the cup in the car overnight, giving the ice plenty of time to melt as it sat in the garage.
Upon inspection the next morning, what would you suspect that I found? About eight ounces -- or half a cup -- of water (melted ice). That's right, my sixteen ounce cup actually contained only eight ounces of soft drink.
Not only do I feel like Wendy's tried to trick me into spending more money by only offering me a medium or large combo, forgoing the small option, but they also cheated me out of half of my drink. To me, that's totally unacceptable.
To be fair, as I waited at the pick up window to receive my amended order, I pondered the possibility that I might have just missed the offering of a small combo. Maybe she had asked me, "Small, medium, or large?" and either I missed the beginning or the speaker cut off the first word. It's possible, right?
Except that, as I waited, the car behind me was placing their order, and I witnessed first hand as the red-handed employee asked them, "Medium or large?" No way I missed the offering of a small combo the second time around.
I've always considered Wendy's to be the best of the big three fast food burger joints. Their burgers are bigger, better, and always fresher. I'm just a little disappointed at how this whole thing played out. You say, "But it wasn't even a buck difference." True. But it's more about principle than money.
On
Wendy's home page
, they have the following statement:
At Wendy's®, we're unrivaled in our passion for giving people what they want — and uncompromising in giving people what they deserve.
It just seems to me that maybe they were a little more passionate about making an extra buck than they were about giving me the small sized combo that I wanted.
Your comments?
Joe