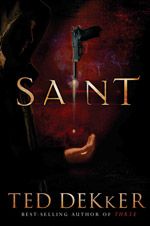 Carl Strople is an assassin with unusual telekinetic gifts. He's been kidnapped, taken into hiding, and had his memory wiped out over a ten-month period of intense training and torture. With a new set of memories and developing skills, he is being molded into a killer for an extraordinary mission. Saint . . . he's not who you think he is. Or perhaps even who he thinks he is.
Be one of the first to get a glimpse into Ted Dekker's upcoming thriller,
Saint
.
Download a FREE Introduction today!
And tell 'em Joe sent you.