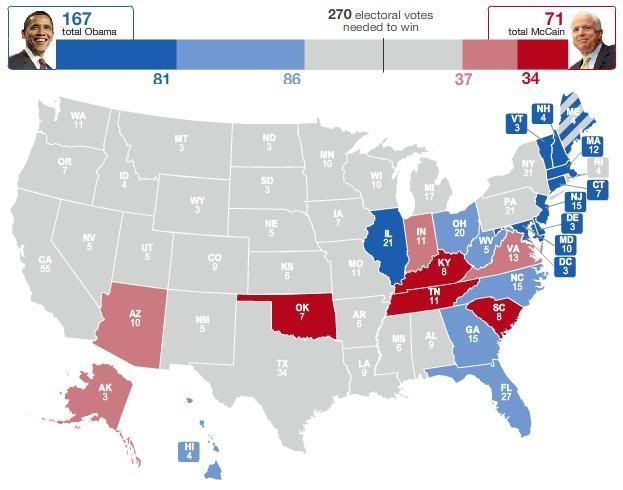 Early results in the Presidential race do not look good. It is still very early, and just an hour ago CNN projections had John McCain in the lead, so things can change any way at any time. It's far too early to call the entire race, and it's too early to call most of the states. 
The map above shows projected wins and leads as of 8:30 PM on Election Day. The dark red and blue are projected wins by CNN, while the light red and blue are current leads based on precincts reporting.

Polls are still open in most west coast states, Alaska and Hawaii. Now is the time for Republican voters who haven't voted to get out to the polls and cast their votes for John McCain. If you haven't voted yet, please don't hesitate any longer. I'll be posting an article later of my predictions of what the country can expect to see over the next four years should Barack Obama win the Presidency. I can tell you now, it isn't pretty. In fact, it's pretty scary.
Get out there and vote West Coast states! John McCain needs you! America needs you!
Your comments?
Joe