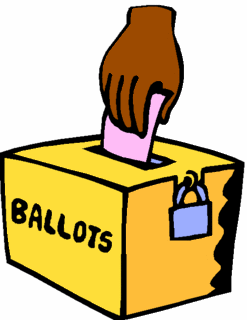 I did my civic duty and cast a ballot in the Primary election. One thing that I
did not
know about Indiana is that you can vote in whichever primary you wish: Republican or Democrat. This from the Marion County Board of Elections page:
Primary Election day is the first Tuesday after the first Monday in May. Indiana primaries are "closed" primaries.

When you sign in at your polling place, the clerks will ask you which political party ballot you prefer. You vote for only the candidates on this ballot.

In the primary, you will nominate the candidates of your party who will be on the ballot in the general election. If you are 17 years of age at the time of the primary election, and will be 18 before the general election, you may cast a vote in the primary election.
Although I'm a registered Republican, I voted in the Democratic primary, because the most solid candidate for mayor in my town is a Democrat. Rather than waste a vote on a Republican candidate I'm not familiar with, it was more important to ensure that the best
Democrat
for the job be on the November ballot. This is a Democratic down, and he has done the most for this town as mayor than any of the other Democrats who have held the office over the past billion years.
Joe