My wife has graciously (finally) agreed to my purchase of a new Palm OS handheld. For the past two years or so, I've been using a Zire 72 (like the on pictured at left) that my wife bought me for Christmas (that was just as shocking as receiving her blessing to buy a new one now). It's seen a lot of activity in those two years. I literally take it with me everywhere I go. I've probably spent more money on accessories for it than the device itself cost.
The Zire 72 uses Palm OS version 5.2, with 32 megabytes of RAM built in. It has a 1.2 megapixel camera with video capability, built in voice recorder, and Bluetooth (which I never used) built in. The screen is a 320 x 320 TFT display.
I used this old Palm to video special moments when my son grew up, to save a copy of voicemail he left me on my cell phone, to snap pictures of just about anything, and even to record my podcast:
Average Joe Radio
.
All of this made it quite difficult to choose a new model. There are no current models on the market that include a voice recorder
and
digital camera. In fact, the only Palm OS devices currently available with a built-in digital camera are Treo smart phones, which is
not
what I'm looking for. The only current non-Treo model that includes a voice recorder is Palm's Life Drive, which at a recently reduced price of $349 is still much more than I care to spend.
So I did a little research last night. I searched both
eBay
and
Amazon
for every Palm OS handheld available, both new and used.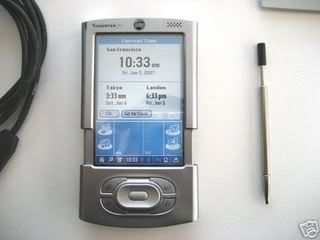 After much consideration, I opted for the Palm Tungsten T3, a discontinued model that has already been superseded by two generations. The T3 includes a faster (400 MHz) processor, twice the RAM at 64 megabytes, and a larger (320 x 480) TFT display. It includes a voice recorder, which means all I had to give up was the digital camera. That'll be a hard feature to do without, but I think I'll be able to get by.
I
reviewed the Zire 72
quite some time ago, and will post a review of the T3 after I've run it through the paces.
Joe