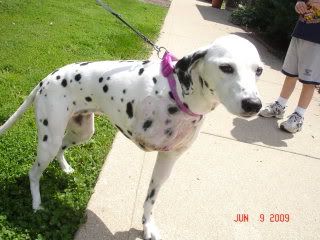 Our nine year old Dalmatian, Maddy, is finally home again, one week after being diagnosed with
Canine Osteosarcoma
, or bone cancer, and one day after having her right front leg amputated to remove the tumor.
You can follow the story
here
, and stay tuned for updates as she continues her battle with any
metastasis
of the cancer cells that may have occurred (even though they don't show up on X-rays). As she lies on her favorite pillow in the family room, resting and recovering from what has certainly been the most difficult week of her life so far, I thank God that there was a means to relieve her pain, improve her quality of life, and (hopefully) prolong the time she has left with us.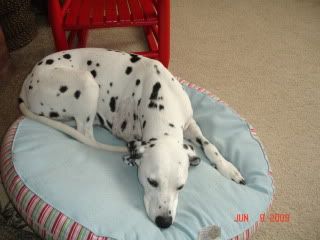 When I first received the diagnosis from Maddy's doctor, I wasn't surprised. In fact, I had told my wife before making the appointment to see the vet that I thought the lump on her leg was probably a cancerous tumor. My wife, in denial, disagreed. I returned home from the vet and called my wife outside without the kids to deliver the bad news to her. After we coped with anger, denial, shock, confusion -- every emotion you can think of -- we were faced with the dilemma of how to treat our beloved pet, who has been our child since before our kids were born.
We were given options such as doing nothing -- in which case she had maybe two to six months left to live -- to amputation alone, or amputation with chemotherapy. I think at first, my wife and I both were so depressed that we thought she would die soon no matter what we did, and we resigned ourselves to trying to make Maddy as comfortable as possible for what time she had left. Learning that amputation surgery in Indianapolis would cost us $2400 -- a nearly cost-prohibitive sum -- made that unfortunate decision almost the only choice for us.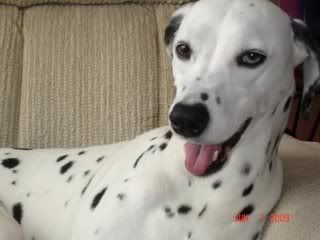 But having lost my mother, grandmother, and grandfather (and others) to The Big C, I had a hard time accepting defeat, and convinced my wife that we had to do more -- that we had to at least see how much the cancer had spread through her body. I returned to the vet and learned that
there was no visible sign of metastasis on the X-rays
, which doesn't necessarily mean that it isn't there, but even the vet appeared optimistic. It was then that I decided that we had to find some way to save our beloved Maddy. The vet had recommended
a local specialist
that gave us an initial pre-consultation phone estimate of $2100 to $2400.
OUCH!
My wife being from Terre Haute, I got a brainstorm (or, if you wish, an epiphany, or a message from God -- I honestly think the latter is closer to the truth) that the process had to be cheaper in a small town like my wife's home town of Terre Haute.
I got online and did a quick search and called
Honey Creek Animal Hospital
. I explained the situation, told them about my wife being a Terre Hautean (sp?), and asked them what they thought. I was told that Doctor Staub would have to make a final determination, but that we could expect the surgery to run between $700 and $1000 and that we could come in the next day for a consultation.
The rest is history. We picked up our Maddy today, and while she is exhausted and experiencing some post-surgery pain, I believe that she will soon be back to her pre-diagnosis energetic self, and pray to God to give us as much time with her as His Grace will allow. Oh, and the total bill for the surgery was $868.40 -- roughly one-third of what we would have paid in Indianapolis. So far, I see no reason to think that the Indy specialist would have done a better job. Only time will tell.
For now, my Punkin is home with us, and we're happy to have her back. We missed her.
Your comments?
Joe
Maddy's Cancer Battle