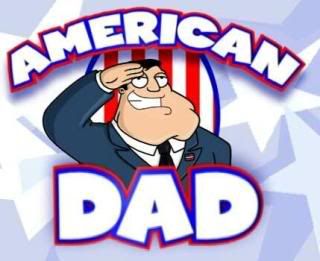 It is the very thing that completes me -- being a dad. It's what I do, who I am,
why
I am. And today, the world celebrated me.
Okay, my kids celebrated me, but hey, they're my world. The festivities started last night, when my son kept asking me to come in (from putting air in his inflatable pool) to watch the
Reds
play the White Sox with him. When I did, he ran upstairs and had a few words with his mother, then he and his sister presented me with an early Fathers Day gift: razors, barbecue chips (to eat during the game), a bag of Jolly Ranchers (he had just been introduced to them on Friday at the vet), and the best homemade greeting cards ever!
We munched on the chips and had some Jolly Ranchers last night while we watched the Reds lose to the White Sox. Then my son and I "camped in" together, meaning we stayed up for a while and slept in the living room.
This morning, when we woke up, the first thing my son said to me was "Happy Fathers Day." I was touched that he remembered to say it. While my wife was in the kitchen making homemade sausage gravy and biscuits and eggs for breakfast, I went up to wake up my little girl. The first thing she said to me, too, was "Happy Fathers Day." That was the real shocker, as she's only three years old.
After breakfast, we took the kids and
the dog
to the park to play and run and get some exercise, before loading up and heading to visit the in-laws in Terre Haute. The kids were pretty well behaved today.
After returning home, I spent about 45 minutes on the phone with my own father. We had a nice conversation, and he sounded to be doing quite well.
Fathers Day sadly comes only once a year. But being a Daddy comes every day, and I thank God for giving me the two greatest kids to be Daddy to!
Your comments?
Joe
Maddy's Cancer Battle