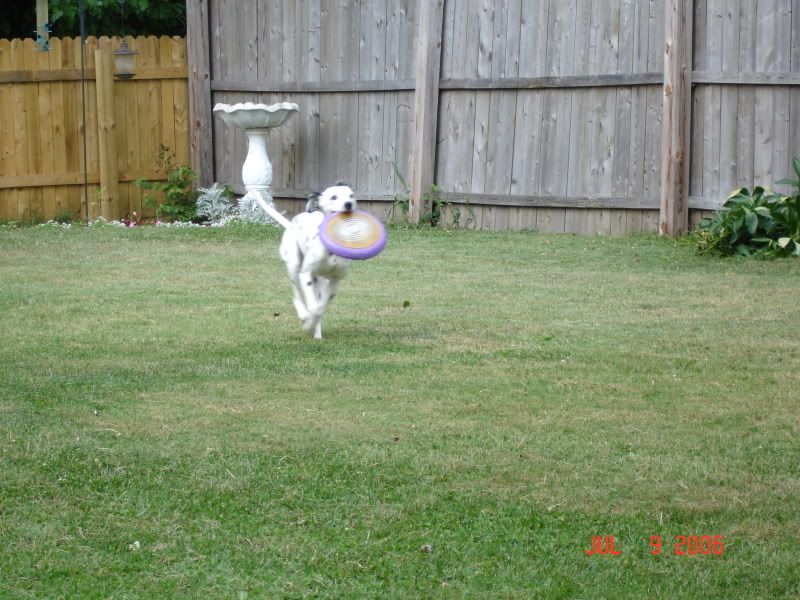 Maddy was diagnosed with osteosarcoma (bone cancer) in June. We made the decision to have her leg amputated to make whatever time she had left quality time for her.
She learned to run and play with three legs. She was her old self again, and we all grew much closer to her than we had ever been.
The past few weeks, she has been declining rapidly. She went the last two weeks without eating. She vomited and, today, had to be picked up and carried to go outside.
We stayed home from church today to spend some time with her. My wife and I talked about it and decided that the best way to spend the day was as a family -- with all of the family, including Maddy. She followed us into the living room today. We made her a comfortable place to lie by the back door and soak up the sun. We wrapped her in a blanket where she could lie in comfort in the middle of the room.
And at 3:15 pm Eastern Time, with my wife and my six-year-old son nearby, lying in my arms, Maddy won her battle with cancer. She is now free from pain and suffering. She now has a new body, with four legs again, free from cancer, and is running in green fields and swimming in ponds.
Many ask if pets go to Heaven. There are two sides to this issue, like any other. I believe that they do, for we are told that God does not forget animals (Luke 12:6). God loves animals, and if He loves them, how can He consider them disposable beings?
Yes, I believe we will see our Maddy again some day, when she comes bounding into our arms, just like she has done for the past 9-1/2 years.
We're going to miss you, Maddy, but we are happy for you that you have finally found relief.