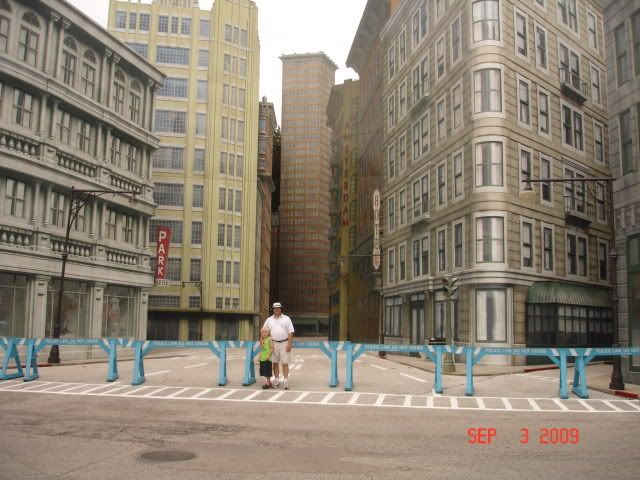 Day six of our Walt Disney World vacation took us to Disney's Hollywood Studios. It was the longest, hottest, most dreadful day of our time at Disney World! We aren't much of a movie family (considering that most movies aren't actually for families), so there wasn't a great deal at Hollywood Studios of interest to us. Oh, and it was also the most crowded day at any of the parks we attended, as we went on a day that Disney's
Fantasmic
show was to be presented (twice) after dark.
There were some highlights of the day, of course, as it wasn't all bad. Naturally, my little girl got to meet several more characters, and was actually working on her second autograph book.
Character greeting pictures: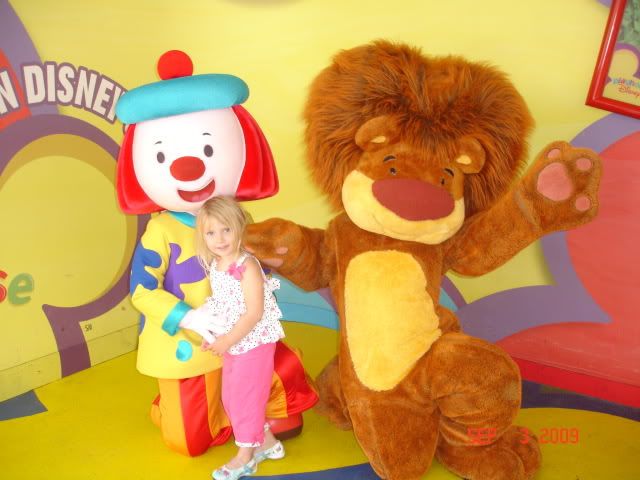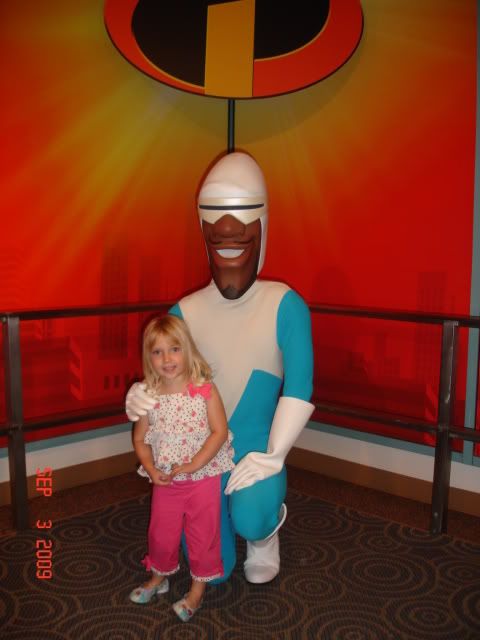 There weren't quite as many characters at Hollywood Studios as we had seen at the Magic Kingdom (of course), as the park is dedicated more to the behind the scenes action of Disney than the character magic.
But my daughter did run into one character who just doted on her like you wouldn't believe.
She spent several minutes with Mickey Mouse while the line of waiting fans grew longer and longer. He cuddled her and played with her hair, as if he was grooming it for her, then invited her to groom his own hair (she didn't quite understand). It was actually quite cute, watching my little girl get so much attention from the world famous mouse.
She had seen Mickey several times already at Magic Kingdom, but there was just something about the visit with Mickey at Hollywood Studios that was quite, well, magical.
That wasn't the only magic of the day, though, as my son -- who had spent the entire trip being quite reluctant to get involved in anything but some of the rides -- actually drummed up the courage to volunteer for Jedi training. It may have had something to do with the fact that he created his own light sabre the night before at Downtown Disney -- I don't know -- or it may have been that he had drummed up some courage after meeting Captain Jack Sparrow the day before. Whatever it was, it was quite an exciting time for my boy's parents, as he was one of several kids called up onto the stage to learn how to fight with a light sabre and defend the galaxy against the dark side of the force.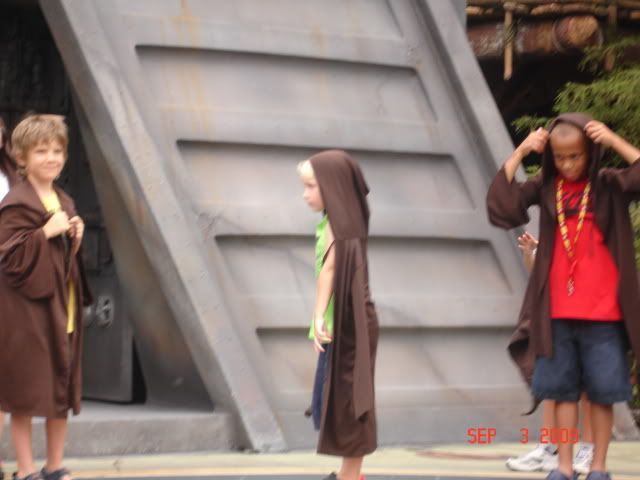 Best of all was when all the little Jedi trainees were surprised by the unexpected appearance of Lord Vader himself, accompanied by two Storm Troopers. Each of the trainees got to take their shot at a duel with Darth Vader, and I think my boy did quite a job of defending the cause of freedom.
Direct video link
.
Another memorable moment of our long day at Hollywood Studios was watching the Extreme Stunt Show. We got quite a look at what happens behind the scenes in action films, and some of the stunts were quite impressive -- but I could have done without some of the hokey pretend film-making they do to present the show.
Direct video link
.
Direct video link
.
Direct video link
.
We could really feel the heat from that last one.
And, of course, the main reason that we stuck it out at Hollywood Studios until the end: Fantasmic. This isn't the greatest video clip available online of the intensive light show, but it's a short clip of the way we saw it. Enjoy.
Direct video link
.
Joe
Maddy's Cancer Battle