Follow prior Disney vacation posts
here
.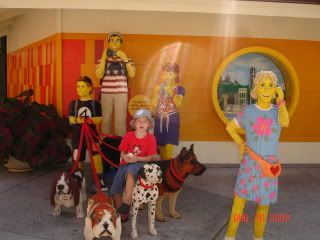 The second day of our vacation -- which was also our first actual day at Walt Disney World -- took us first to Downtown Disney, an area of shops and restaurants where it can be very easy to blow a rather large chunk of your vacation budget on souvenirs before you even make it to a park.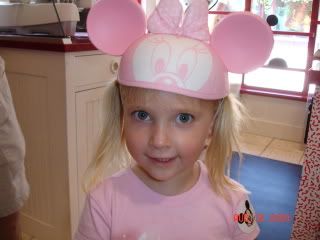 It also happens to be a great place to pick up a set of the world famous mouse ears that nearly everyone buys when they visit one of the Disney parks. My daughter was quick to choose a set of Minnie Mouse ears in -- her favorite color, of course -- pink. My son was much harder to convince and didn't pick up his ears until later in the week.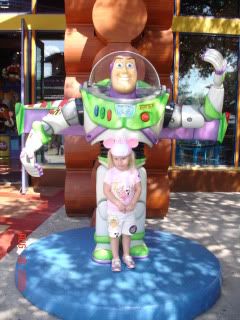 What turned out to be a week of many, many, many character greetings -- pictures, autographs, meals -- for my daughter started with her posing for a picture in front of a large plastic Buzz Lightyear at Downtown Disney.
The "real" characters soon followed, when we arrived at Magic Kingdom, barely made it through the gates, and ran into the largest Pluto I've ever seen. I have one question: how does a mouse have such a large dog? Good thing it wasn't Clifford. I made the mistake of buying a drink for my kids to share while they waited in line to meet Pluto, and the beginning of what would be lots of fussing throughout the week soon followed.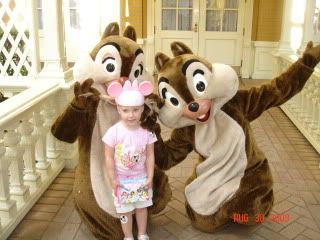 Just around the corner from Pluto stood Chip and Dale (you try to figure out which is which, and
let me know what you come up with
). My daughter didn't even know who they were until they stood towering over her, but she was thrilled to meet them, anyway.
As we made our way down Disney's Main Street USA, exploring the Magic Kingdom for the first time as a family (my wife has been there before, but with only vague memories, but for the rest of us this trip was a first),
we soon found one of my little girl's favorite characters: Ariel. She was quite excited to get to meet the Little Mermaid.
Being guests at one of the Walt Disney World resorts rather than staying at a hotel in Orlando paid off in many ways during our trip, starting with what Disney calls "Extra Magic Hours" at Magic Kingdom. Extra Magic Hours is when a park stays open late -- often as late as midnight -- just for resort guests, after closing to general ticket holders. We enjoyed roaming around the Magic Kingdom until nearly midnight, riding rides with virtually no wait, and just basking in the Disney magic in the air.
The evening ended with an intense fireworks display over Cinderella's castle (sorry, no video of this one), and the family making our way aboard monorail and bus back to the resort for a very late night (which would be followed by a very early morning).
Your comments?
Joe
Maddy's Cancer Battle