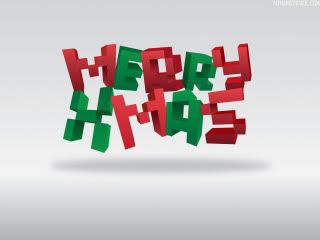 This time of year there is always great debate (among those who just need a reason to debate) about the meaning of Christmas. Whether you celebrate it as the birth of Christ, or just a time to give gifts, or some other manufactured holiday [see
Kwanzaa
], Christmas should be a time of great joy and happiness, shared with family and friends, blah, blah, blah. Right?
I say, emphatically,
NO!
Christmas is a time of year that we recognize the birth of our Savior.
Period
. You may give gifts, which is great, as on that first Christmas day we received the greatest gift of all from our Creator God in the birth of His Son, Jesus Christ, sent to take away the sins of the world. But as I mentioned earlier, much of the debate of this time of year centers around the terms "Christmas Tree," or the use of the letter 'X' instead of 'Christ' in the word Christmas. It is that which weighs heavily on my mind today.
Christmas. Xmas. Or X-mas. What is the difference. Is there really any difference? Many people -- including some of my own loved ones -- intentionally use the letter 'X' to replace 'Christ' in Christmas, as if by writing the word differently they can remove the real reason for the season.
But what does the 'X' really represent? Consider this, from
Wikipedia
:
"The word Christmas originated as a compound meaning 'Christ's Mass'. It is derived from the Middle English Christemasse and Old English Cristes maesse, a phrase first recorded in 1038.[6] 'Cristes' is from Greek Christos and 'maesse' is from Latin missa (the holy mass). In Greek, the letter Χ (chi), is the first letter of Christ, and it, or the similar Roman letter X, has been used as an abbreviation for Christ since the mid-16th century.[12] Hence, Xmas is often used as an abbreviation for Christmas."
But maybe you're one who views Wikipedia as flawed, due to it's social editing structure. In that case, consider this:
From Bill Purdue, an Open University historian:
"I suppose to us it will always look like an abbreviation, but it would first seem to be an abbreviation used by clerics with a good knowledge of ancient languages."
Or this, from
About.com
:
It is said that when the Emperor Constantine had his great vision that caused him to convert to Christianity, he saw the Greek letters Chi and Rho intertwined. Chi is written as an 'X' and Rho is written as a 'P', but they are the first two letters of the Greek word Christ 'savior'. 'XP' is sometimes used to stand for Christ. Sometimes X is used alone. This is the case in the Chi (X) abbreviation for Christ in Xmas. Thus, Xmas is not directly a way of secularizing the holiday, but since 'X' is not Chi in English, we read the word as X-mas and see no connection with Christ.
Still not convinced? Then maybe you should consider this, from
Snopes.com
, one of the most reputable sites for debunking urban myths (presented as a screen capture as well as text --
click image to enlarge
):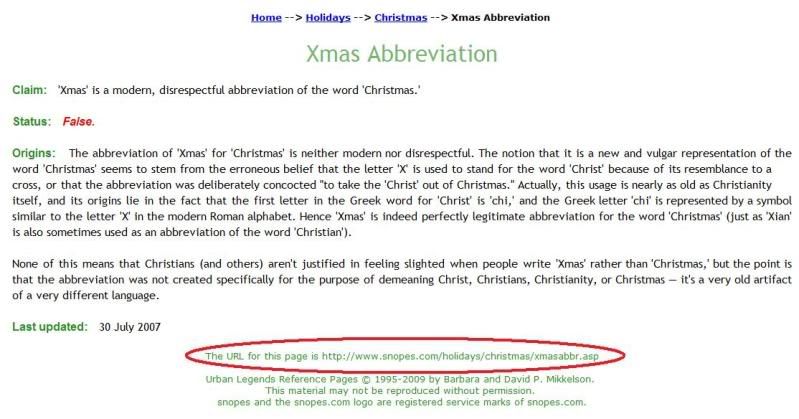 The abbreviation of 'Xmas' for 'Christmas' is neither modern nor disrespectful. The notion that it is a new and vulgar representation of the word 'Christmas' seems to stem from the erroneous belief that the letter 'X' is used to stand for the word 'Christ' because of its resemblance to a cross, or that the abbreviation was deliberately concocted "to take the 'Christ" out of Christmas."

Actually, this usage is nearly as old as Christianity itself, and its origins lie in the fact that the first letter in the Greek word for 'Christ' is 'chi,' and the Greek letter 'chi' is represented by a symbol similar to the letter 'X' in the modern Roman alphabet. Hence, 'Xmas' is indeed perfectly legitimate abbreviation for the word 'Christmas'...
So there you have it. No matter how you slice it -- or
spell
it -- Christmas is just that, the celebration of the birth of our Lord and Savior Jesus Christ. Merely substituting 'Christ' with an 'X' does not change that. Am I suggesting that you shouldn't celebrate Christmas if you haven't accepted Christ as your Lord and Savior?
Quite the contrary. Instead, I suggest you continue to celebrate Christmas with your friends and family, giving gifts and singing carols, and all that has come to be a traditional Christmas celebration. Oh, yeah, and I strongly encourage you to come to a personal relationship with Christ, because without that, everything we do on this Earth is for nothing.
Send me your comments.
Joe