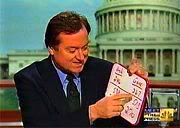 Russert was just back from a family trip to Italy and was in his Washington office working when he collapsed. NBC said he was recording voiceovers for Sunday's "Meet the Press."
I must say that I, for one, will miss Tim Russert during this year's election cycle, and that I'll miss him on
Meet The Press
. Our thoughts are with the Russert family and those who have grown close to Tim Russert over his career.
Joe