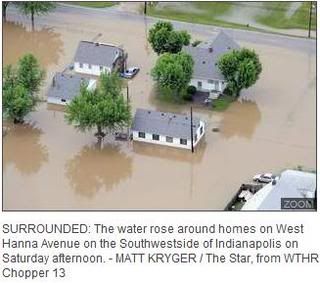 I'm fortunate enough to live just east of Indianapolis, where we have received much of the pummeling from recent rains, but where we were just missed by tornadoes that struck five miles north of us last week and flooding that struck just south and west of us this week.
My family and I left the house around noon today to make our weekly Sunday commute to Terre Haute -- where my wife's family still lives -- so the kids could visit with their grandparents and we could
go to church
. We knew that Interstate 70 westbound was closed and chose an alternate route of US 40 -- the old National Road. Almost five hours later, we completed what would normally have been about an eighty minute drive.
At the intersection of US 40 and US 231, we waited for ten minutes (literally) at a stoplight while the traffic that was detouring from Interstate 70 to US 40 rolled past us. I guess I should have known then to seek an alternate alternate route.
About five miles east of Brazil, Indiana, we came to a screeching halt. Sitting in traffic that was backed up due to the detour, and creeping along at an average of about two miles an hour, it would have taken us over two hours just to get past Indiana Highway 59, where the detour would be routed back to Interstate 70. Instead of waiting, I turned around and tried to take the County Roads north to US 36.
After running into several heavily flooded, impassable roads, we found ourselves back on US 40, about four miles back from where we had started, having driven around in a circle, thanks to the closed roads.
Finally, I turned around again and went all the way back to US 231 and followed it north to US 36, entering Terre Haute from the north rather than the south.
It was literally four hours and forty-five minutes after leaving our home just east of Indianapolis that we arrived at my in-laws home. Wow, what a long drive! We saw much, much flooding, to include some homes that were clearly not inhabitable under several feet of water.
I knew we had seen lots of rain over the past couple of weeks, but it took this lengthy Sunday commute for me to see just how bad it really was. Hopefully things will dry out before the next raindrop falls.
Joe