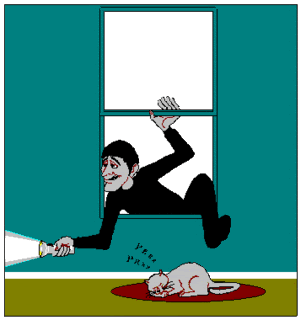 Just learned that the in-laws house was burglarized earlier today. The mother-in-law started a new job yesterday, and today she came home from work to find all of the doors open and the bedroom in disarray.
To make matters worse, it appears that the culprit(s) was/were still in the home when she arrived home. When she saw from the hallway the scattered dresser drawers in the bedroom, she left the house to call 9-1-1 from the car. Several items were left behind that had clearly been gathered with the intention of stealing, including some jewelry and guns.
Luckily she made enough noise before making her discovery that the perp(s) hid long enough for her to get out of the house, then fled the scene.
Please keep them in your thoughts and prayers as they deal with the feelings of violation that are sure to follow, and as they try to regain the sense of security that we should all be able to feel in our homes. And, if you're like me, you'll also pray that the police catch the person or persons responsible.
Joe