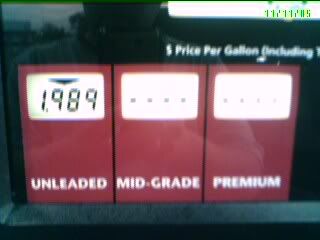 After the insanely high gas prices we've seen over the past several months, I had resigned myself to the possibility that I might never pay less than $2.00 for a gallon of gasoline again. I honestly thought that $2.00 was the new threshold.
Today at
Kroger
, I filled up for just $1.989 per gallon.
WOW
! Of course, that's because I had a ten cent per gallon discount from buying groceries inside the Kroger store, but hey, if you have to buy the groceries anyway, why not buy them some place where they'll save you money on gas, too?
WCPO-TV
, the
ABC
affiliate in Cincinnati on channel 9, recently reported on a survey conducted in Ohio comparing the grocery prices at
Walmart
with those at Kroger. They purchased 150 items at each store and found that, based on regular store prices, the total grocery bill at Walmart was almost 20% less than Kroger. However, when they calculate the same 150 items at sale prices (Kroger sale prices versus Walmart regular prices, as Walmart does not have sales), Kroger was almost 20% less than Walmart.
The grocery savings on top of an extra ten cents per gallon in gasoline savings makes Kroger my grocery store/gas station combo of choice.
How much are you paying for gas today?
Joe